Youth Programs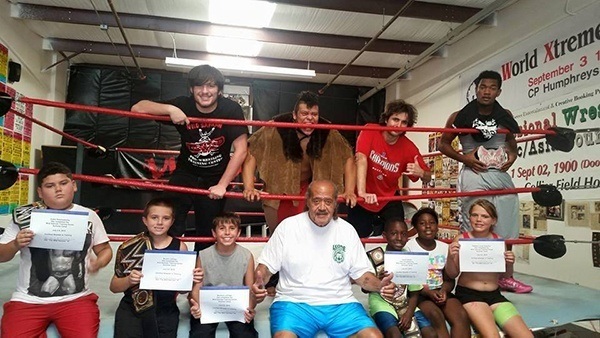 The Wild Samoan Training Center Offers a unique opportunity for youth to gain skills and knowledge through both athletic training and worldly culture experience.
Sanctioned by USA Wrestling.
Kids Summer Camp
Your child will get into the wrestling ring with other children and Wild Samoan Training Center-Certified trainers. Then the fun begins! Singles matches, tag team matches, battle royals, and MORE! The kids become the superstars of the Wild Samoan Training Center! Championship belts are on the line for the "Kids Camp Champ". Lasting friendships and unforgettable memories are made! Wrestling name games, wrestling history, arts, crafts, and more! Sign your child up now so they can experience the fun, excitement, and magic of professional wrestling! Each child will receive a FREE TICKET to WXW Wrestling on Saturday, August 5, 2017!
As part of the program, your child will learn:
Age appropriate wrestling techniques
Anti-Bullying education
Self esteem building
Body boundaries and all around respect
Culture appreciation
"I just wanted to let you how much fun Alex is having. He is so excited every day when he comes home...he has to try and show everyone what he learned. He is very excited about shooting the commercial... He has not been this excited about anything- karate, baseball or the piano....wrestling is it!!!"- Kathy Willoughby
"We heard all about it. [The lesson Afa the Wild Samoan had on the importance of education]. He is a great role model for Josh. We are very happy." - Jaime Beckous
Who: Children ages 5 to 12 years
What: Wild Samoan Training Center will allow your child to BE THE STAR and have the fun, unforgettable experience of a lifetime
When: 9:30 to 1:30 p.m., Saturday July 22 and Sunday July 23, 2017
Where: 17649 US Hwy 27 Suite B14, Minneola, FL 34715
Why: To give your child an AMAZING, affordable and unique experience
Wild Samoan Training Center Birthday Parties
Each party includes:
Wrestling Championship Belt photo shoot in the ring
Each child will be able to get into the ring with trained professional wrestlers to learn safe but fun wrestling techniques, then wrestle their friends!
Q & A session with the professional wrestlers and referee
Appearance, photos, and Signed Autograph from WWE Hall of Famer Afa The Wild Samoan for each child in attendance
The birthday family receives a DVD capturing your entire event!
Requirements
At least 5 years of age
Release forms signed by parent/guardian
Documentation from physical clearing for rigorous physical activity (SUMMER CAMP only)
Complete REGISTRATION forms (Summer camp only). We can accept cashier's checks, money orders and all major credit cards.
Meet tuition/payment requirements (Note, all money paid to the Wild Samoan Training Center, Inc. is non-refundable)
My great-grandson's 10th birthday party was held at wstc today and I wanted to let you all know how very much I enjoyed all the young men and ladies that participated in the "Main Event." The attention to safety and good sportsmanship were outstanding and lots of fun. Thanks so very much. Best wishes for continued success and may God keep you all safe. Sincerely, Janice Lane